This is going to be a long post, so bare with me. I've decided to review The Last Unicorn Comic Book Series Issue #1 and #2 since I received them around the same time. I actually received #2 on Thursday before #1 so I didn't want to review the second issue before the first. I am also going to take the time to explain a bit about the story and why I like it, and also review the two companies I bought the comics from. I have already
pre
-ordered #3 and #4 from one of the companies, and will likely
pre
-order #5 and #6 depending. The next issue is not due out until August 25
th
, and I do plan on review each of the issues. I also apologize for my camera's flash that can be seen on all my pictures. Curses!
For those who have been following this blog, I've been trying to get this series for over a month. I first heard that The Last Unicorn was getting a comic book treatment in June... Two months after the first issue had been released! After much
internet
seeking, and hand wringing, the issues are finally in my hands.
So what is so great about this series you ask?
For those who don't know, and I imagine if any of you grew up in the 80s you're probably already familiar with it, The Last Unicorn started off as a novel. Written by Peter S Beagle, it was first published in 1968. In 1982 Rankin - Bass produced an animated movie of the same name, with the screenplay written by Beagle. This was my first introduction to the story. My mom had taped it off some television channel when I was young, and I would watch it with my brother. When I turned 10 or 11, she found it on VHS and gave it to me for Christmas. I did not know it was a book until a friend in high school told me about it when we were talking about some favourite movies we both loved. She lent me her copy and I purchased my own. In 1988 there was a stage adaptation, also written by Beagle. In 2005, despite his claims to never make a sequel to the beloved novel, Beagle wrote a coda to the story called "Two Hearts". It was featured in Fantasy and Science Fiction Magazine and was published in his book "The Line Between".
I won't get into the story too much, because I think everyone should either read the novel or watch the animated movie. It is a wonderful story. It is a third person narrative about a unicorn who discovers by chance that she may be the last. She decides to find out if this is true and leaves her forest. On the way, she meets an array of different characters that help bring her closer to discovering where the unicorns had disappeared to.
There's a couple of reasons I really love this book and all its adaptations. For one, any adaptation has been overseen by Beagle himself, and this keeps every version close to the true story. The books contains a lot more than the animated feature, as most books do, but what the movie omits takes nothing from the original story. Growing up with horses, I already had a love for unicorns. I had unicorn bedsheets, plush toys and figures, both plastic and glass.
But the funny thing is, a lot of women love The Last Unicorn. It isn't to say men don't like it as well, for quite a few of them do. I'm no expert on the subject, as I'm just an Anthropology major, but as a woman, I like to think I have an idea why.
Since I grew up watching the movie and know it off by heart, I'll use it to illustrate the example. In one revealing scene, the Unicorn, now Lady
Amalthea
, sings about how everything has changed now that she has become a woman. Unicorns have always represented innocence and purity, captured only by virginal maidens. Young girls are often associated with the words innocence and purity. Once a girl is sexually mature, she is no longer described as such. Once a girl becomes a woman, she is indeed changed, not just biologically but also her out look on life. She must become responsible, and no longer spend her days frolicking about, but instead is encouraged to conform into the role of wife and mother. Instead of dreaming about unicorns and fairy tales, she must come back to the 'real world' and all it's ugliness. This has change a lot in modern times, but I'm going to go by the mind set of the era the book was published. Either way, going from girl to woman is a massive change for any female. The Unicorn's accidental change into a woman and how she describes being a woman is very
relatable
for most women.
A key character in the novel is Molly Grue, a dishevelled woman who wished all her life to see a unicorn. By chance, the Unicorn and her companion
Schmendrick
the Magician run into Molly and her lover Captain Cully while travelling. When Molly sees the Unicorn, she is angry because unicorns are supposed to come to pure and innocent maidens, and not to women, who have lost the innocence and spark of wonder. Unicorns serve as a reminder of the innocence of being a young girl, where life was much more carefree and simple. Now that she has been roughened by age and experience, Molly yearns for the past, as a majority of women do once they've been handed the responsibilities of an adult.
Anyways, that is my own personal take on it. I could be wrong. I always felt that Molly Grue and Lady
Amalthea
reflected a lot of what I felt when I became an adult, and even to this day some of my feelings of my lost childhood as I go further and further into adulthood.
Before I get into the comics themselves, I want to review the companies I bought from. I wanted to buy Issue #1 and #2 straight from
IDW
, the published of the comic. But it turned out that #2 was out of stock. I decided to go ahead and order #1 and I found #2 on a website called
mycomicshop
.com based out of Texas. If I cared to look farther, I would have found a website based out of Quebec to order from, but oh well. That is what happens when you buy comics late at night I suppose!
I placed my order with
IDW
and
MyComicShop
(
MCS
from hereafter) on the same day, Monday July 19
th
. I was surprised to get confirmation from both the next day, AND an email detailing that the products had been shipped on Tuesday, July 20
th
. The emails come within 30 minutes of each other and around 7 p.m. Eastern which meant they probably wouldn't be in the mail system until the 21st. I believed I used USPS International Mail for both orders.
MCS's
package came on July 29
th
. With the civic holiday,
IDW's
package came today on Tuesday August 3rd. I think it would have come on the 2
nd
if it wasn't for the holiday.
Paranoid that the same thing may happen next time, I
pre
-ordered #3 and #4 with
MCS
. I want to
pre
-order #5 but they automatically charge you $25 for shipping in case your orders are larger than expected. They say that they give you shipping credit if it is under the $25. I want to wait until #3 has been shipped and find out how much shipping credit I have before ordering #5 instead of pay $30 off the bat. Since #5 comes out in October, I have some time to
pre
-order.
MCS's
package was a huge white box. The comic was tightly wrapped in plastic, with a cardboard piece behind it. There was also a loose cardboard piece in the box
overtop
of the plastic wrapped book for extra protection. This is what the box and board looked like. I should had taken pictures but I was too excited.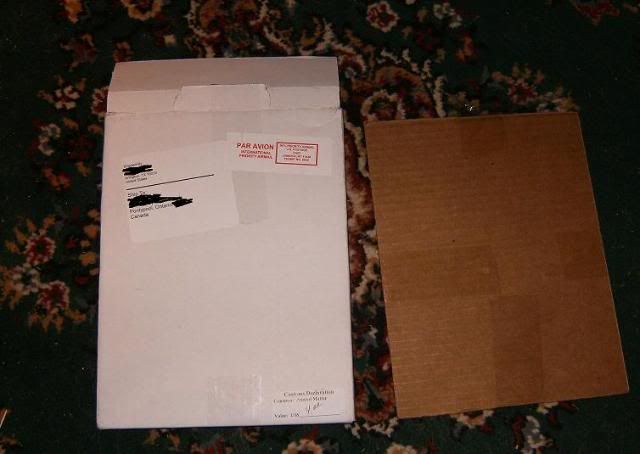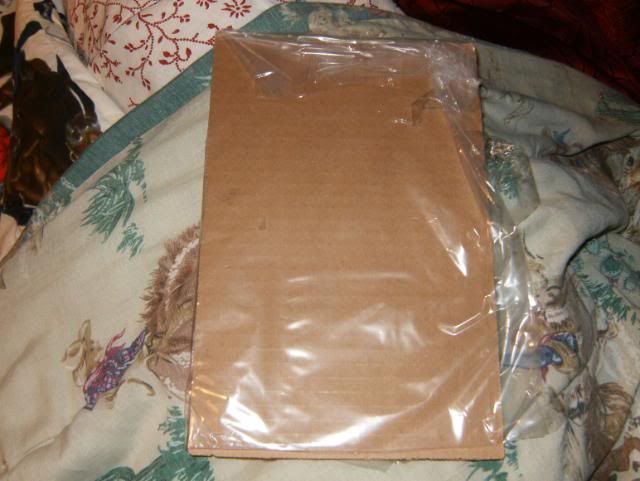 The one thing I was disappointed with was that even though
MCS
did wrap the comic in plastic, it wasn't a plastic cover that could be later used to protect the comic. I ended up using one from my other comics. I plan on getting a few from my comic book store when I go next week.
Today,
IDW's
package came in a little brown box. Inside, the comic was wrapped up with bubble wrap and came with a plastic cover. It was sealed with a little blue sticker with the
IDW
logo embossed with gold. Here's what the package looked.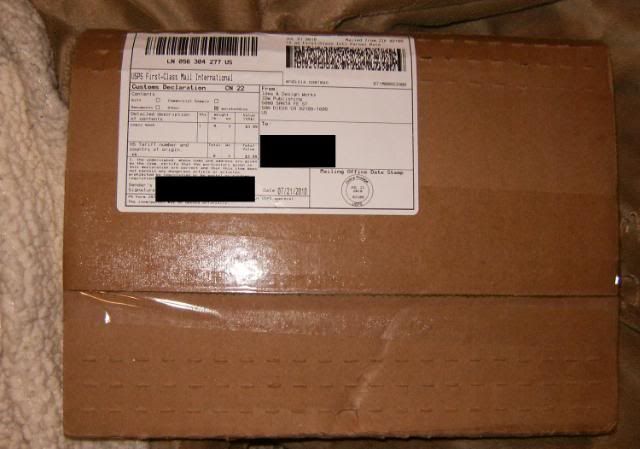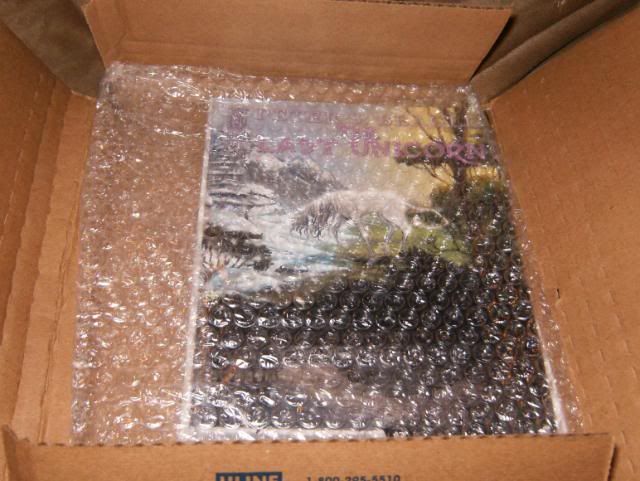 I was much more impressed with
IDW's
packaging than
MCS
only because of the plastic cover that it came with. Also,
MCS
made opening the comic a little more difficult because I had to cut off the plastic wrapped around it. The only real issue I have with
IDW
is that the comic they sent me has a minor flaw in the cover. It is very faint, and does not ruin the
cover's
image but it looks like it has been lightly scrapped with an
exacto
knife. Maybe the comic was on the top of a box and when it was cut open, this issue got a little line through it. It's hardly noticeable and I'm not that big of a comic collector to be freaking out by it. I do plan on buying the trade once it comes out anyways.
Now for the comics!
Both issues are beautifully drawn. The art work is breath taking. The characters so far look a bit like how they did in the animated movie, which I'm not sure if was done on purpose. In the 20
th
anniversary version of the book there are a few illustrations of the characters are very different from the movie portrayal.
Schmendrick's
blue hat from the movie is used, and the unicorn looks a lot like the movie version. Mommy
Fortuna
looks more originally but carries some of the same aspects from the movie.
Rhuk
is also more originally drawn than most characters. That being said, it is not a bad thing, just something I noticed.
Despite taking it's visual cues from the movie, the story is more faithful to the novel version. For example, in the movie the hunter does not speak of his grandmother's encounter with a unicorn, but in Issue #1, there is a beautiful panel of the tale. I was very pleased to see the comic being an adaptation of the novel, instead of a reconstruction of the movie.
Another thing I noticed was that each of the issue's is rather short. The book itself spans 200 pages, and the movie was an hour and a half. The comic series is to be 6 issues, but from the descriptions from the Previews, the characters do not reach
Haggard's
Castle until #5. Even though the movie skips over the parts about the town of
Hagsgate
, quite a bit happens in the story once they've reached the Castle. I wonder if issues #5 and #6 will be a bit larger than the first two. Since #3 indicates that it will cover the Unicorn and
Schmendrick
meeting Molly Grue, and her
transformation
does not happen until #4, I am going to guess that most of #3 will be about Captain Cully, and #4 will probably include the story line about
Hagsgate
(or so I hope). Since the comic seems to be following the book more so than the movie, this likely will happen but I won't know until I get those issues. I do believe that the story can be contained in 6 issues, I am just curious how they will do it, and what they will and will not include.
Along with the story, there is a two page interview with Peter Beagle which is a three part series within the comic. I rather like this feature, but I was a little disappointed that there were about 3-4 pages of ads in the comic. Granted, the ads are for Beagle's work, and lord knows the poor guy needs the advertising with all the problems he has had getting the royalties due to him from the sale of the DVD. But chances are, if you're reading The Last Unicorn, you already have the book or the movie. And even if you aren't, you won't pick up Issue #2 without getting Issue #1. I think it's a bit silly to have the same ads for the same products in the same comic book series. At least in Issue #2 there was one page of unicorn art. There's is one last segment in the Beagle interview, which will finish in #3 so it'll be interesting to see what they use as filler for the rest of the series.
Since I'm not too crazy of a collector, I didn't bother trying to track down the cover variants of The Last Unicorn. For Issue #1 there were 4 of them, one being a Comic Con Exclusive, and for Issue #2 there were 3. I was given the option for which one I wanted, and since I love purple, I went for Cover B. Cover C was more expensive for whatever reason, maybe because it is rare. But Issue #1 gave you a glimpse of Cover A for Issue #2 anyways. I am hoping that
IDW
really does make this series into a trade. I hope that it will include all variant covers and the Beagle interviews, and all the art they've included. It would be a damned shame if they didn't.
Something I noticed and absolutely loved about comparing Issue #1 and #2 was how they contrasted each other. In Issue #1 we are learning about the Unicorn and her forest. The entire issue except for some night scenes are bright - stunningly bright, with accents of gold. Other than the
night
scenes, the only other dark scene is the very last panel which introduces us to the next issue, which is a significantly darker part of the story.
Issue #2 is completely dark. The backgrounds are black. The entire story is at night (as it should be! Creatures of the Night, brought to light!). One of the reasons I opted for the darker variant cover of this issue is because it just suits this issue so much better than Cover A. Cover A is beautifully drawn
and
the detail is amazing, but just doesn't fit the mood. The only thing bright about this issue are our two main protagonists, the Unicorn and
Schmendrick
, as it should be. The unicorn's golden hue stands out like a beacon amongst the drab, and even
Schmendrick's
blue
cloak
and hat add life to a dreary
existence
that is Mommy
Fortuna's
Midnight Carnival.
I am absolutely delighted in the direction that this comic series has gone. If you are a lover of unicorns, or The Last Unicorn, or Fantasy in general, this comic is worth picking up. If you haven't read the book, or watched the movie I strongly encourage you to. This is a beloved fantasy classic and the comic book treatment is well deserving. You can still order Issue #1 from
IDW
and Issue #2 can be found on most comic
webstores
. I have found success at
My Comic Shop
,
Expert Comics
,
Heavy Ink
and
Things From Another World
.
Conlan

Press
also has issues available and they can be signed for extra by Peter S Beagle himself. You can try
Ebay
if you're all out of luck, but I urge you to try these places first!